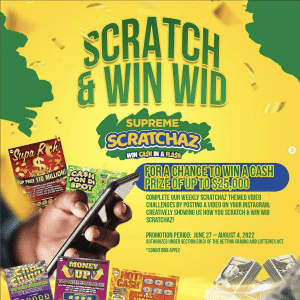 Promotion Period: June 27 – August 4, 2022
Rules:
1. Entrants must be 18 years or older to play and no children should be present in the video content shared.
2. Starting June 27, 2022, every Monday at 10am for 6 weeks, one (1) post will be made to our Instagram, Facebook & Tik Tok pages, asking persons to complete a video challenge. Each week, the challenge will represent and highlight a different Supreme Scratchaz game.
3. Persons must post a video showing us how they Scratch & Win Wid Supreme Scratchaz with the specific Scratchaz game theme for that week. The video must contain at least one (1) Scratchaz Ticket from the specified theme. (example: A Supa Rich challenge will be posted on June 27, 2022. Contestants will be asked to upload a video on their Instagram page completing the Supa Rich Challenge by 6pm on Thursday June 30, 2022. Their video must contain them holding a Supa Rich ticket.)
4. Persons will have until 6pm the following Thursday to submit their entries.
5. Only posts made from Instagram pages will be qualified for entries.
6. All participants must be following the Supreme Ventures Instagram page and must tag @supremeventures and add the hashtag #SupremeScratchazChallenge to qualify.
7. Profiles must be public in order to view the uploaded videos and the participants must be following the Supreme Ventures Instagram, Facebook or Tik Tok pages relevant to the platform they are using to enter the challenge.
8. The videos/submissions must not contain any expletives, inappropriate language or indecent exposure and should not perpetuate any falsehoods or reflect Supreme Ventures in a negative light.
9. All qualifying entries will be entered into a Microsoft Randomizer, and Two (2) random persons will be chosen as the winner of a specified cash prize in descending order. Three (3) backup winners will be chosen at the same time.
10. The winner will be selected at 10:00am the following Friday and announced on our page at 12 noon the same day. The winner will be directed to message us privately where they must send a picture of a valid government issued identification and scratchaz ticket (winning OR non-winning) before we confirm his/her as a winner.
11. The winner will have 48 hours after being notified of their win to respond or one of the backup winners will be contacted.
12. Prizes can be collected at the closest Regional Office to the winner.
13. To claim prizes, winners must present a valid Government issued identification (Driver's License, Passport or National/Voter's ID) and the same scratchaz ticket submitted.
14. All prizes must be collected within 5 -7 days after responding to the winner notification, weekends not included.
15. Winners must also agree to have their picture taken by SVL, which will be posted to our Social Media channels Instagram, Facebook & Tik Tok.
16. There will be 12 winners in total
17. By entering and participating in this promotion, the customer will be accepting that they agree to the terms and conditions of the promotion.
18. Only one entry per participant will be considered for each giveaway. Persons will only be allowed to win once for the duration of the campaign.
19. All unclaimed prizes will be returned to Supreme Ventures Limited.
20. Supreme Ventures Limited encourages responsible gaming. Players must be must be 18 years and older.
21. Authorized under section 58(3) of the Betting, Gaming and Lotteries Act