Supreme Ventures' latest Lotto winner says he won't clown around with his $45 million jackpot win.
A. Regent hit the jackpot with numbers 06, 10, 11, 12, 21, 33 in draw #1630 on Wednesday November 20.
He says the combination, which are rakes from a dream, is one that he has been playing for several years with just a few changes.
"A relative of mine got a dream a long time and picked out the rakes from the dream. As the years went by, we changed out some of the numbers. I don't remember what the dream was about, just that it had an old man in it," Regent said.
Regent's win is the second Lotto jackpot in seven weeks.
The previous winner copped $277 million on October 12, the second largest jackpot in two years.
The lucky ticket for the $45 million jackpot was purchased at JJ Mobile Phone & company, 372 Willowdene Parkway, Spanish Town, St Catherine.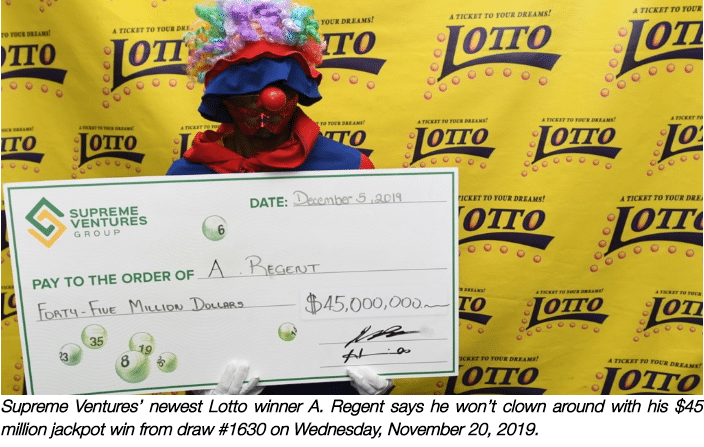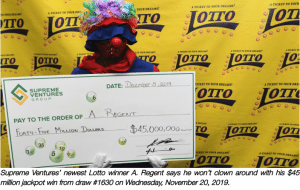 The winner, who donned a red and blue clown costume to collect the jackpot, says the winning ticket was one of several purchased at least four draws in advance. Regent has been buying Lotto tickets for over 20 years and says it was just for fun until he was told that he had the winning numbers.
"I was headed to work and my family member left for work before me. When he came back home and tell me that I won I thought it was a joke and still went to work. When we return home we would deal with it," he said.
Having checked the winning numbers on the results hotline, 888-RESULTS, Regent realised that the win was no joke and started to plan from a millionaire's perspective.
"Life has been up and down but the win will give us a better life; we'll be better able to balance life. We've been through a lot and that's the main reason why we would need a permanent home.  Our priority is to find a home and we'll take it from there," he added.
Regent says while contemplating what else to do with his life-changing jackpot, he has no plans to share the joy with many persons.
"Inside I feel great, but I am trying to remain calm and not show too much anxiety or emotion," he said.
Source: http://www.loopjamaica.com/content/45-million-lotto-jackpot-give-st-catherine-man-better-life