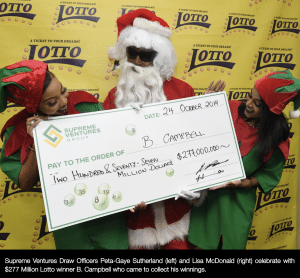 Supreme Ventures' $277 million Lotto jackpot winner, B. Campbell will be smiling all the way to the bank this Christmas with the largest jackpot in two years and the third largest in Lotto history under his belt.
Campbell, who came to the SVG headquarters to collect his winnings dressed up as Santa Claus, secured the bag with winning numbers 03, 11, 18, 21, 29, 32 for draw #1619 on Saturday, October 12.
He said the numbers for his lucky ticket were randomly chosen in a rush.
Campbell said he does not have a formula for choosing his numbers other than purchasing several tickets for each draw.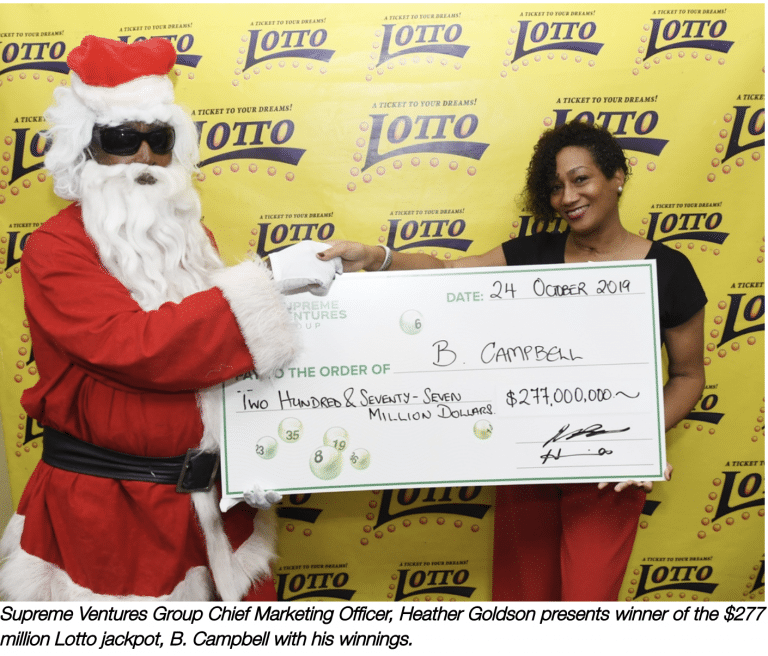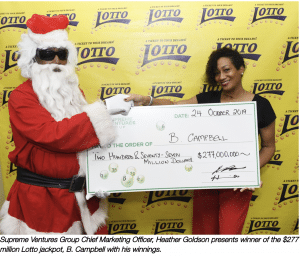 Over 10,000 Jamaicans won small prizes from the draw, with Campbell being the sole winner of the jackpot with a ticket bought at Snoopy's Wholesale and Gaming in Belfield, St Mary.
Campbell, who has purchased Lotto tickets since the game was introduced to Jamaica in 1994, says he always thought that he would win one day and is grateful for the windfall.
"Good money is hard to come by, clean decent money is hard to come by, so when you come into a good assistance like this you have to give God thanks," he said.
The Lotto winner, who continues to buy his favourite SVG games, Lotto and Super Lotto – even after his lucky strike – says he checked his numbers in the paper days after the draw.
He revealed: "I was in the town and I bought the paper and saw the story about a St Mary winner and wonder why no one came for it. Then I said 'wait, den mi nuh buy mi ticket?' So, I sat down and checked the numbers and when I realized I won I said, 'Praise God'."
Campbell, who says he is still excited about the win, plans to use the funds for investment in business and real estate.
SVG Vice President, Marketing, Communication & Sponsorship, Gail Abrahams says the Group is ecstatic that a player has won.
"This is the third time that the Lotto jackpot was over $200 million, and we are happy that we have a winner for this mega jackpot. This is a life changing win and we are so happy that our winner came forward so quickly to collect the jackpot," she said.
Winners of Supreme Ventures games, particularly the Lotto and Super Lotto games, have 90 days to come forward with the winning ticket in order to begin the process to claim their multimillion-dollar jackpot.
Source: http://www.loopjamaica.com/content/277-million-lotto-jackpot-puts-winner-holiday-spirit